Dok70 — luxury living with sweeping views of Terneuzen
Overlooking the shimmering sea with the city centre on its doorstep, Dok70 — a 70-metre-tall residential tower — is set to become Terneuzen's new showpiece. For this unique project, we will act as both developer and builder. Provided the apartments attract sufficient interest, we aim to start construction work in the spring of 2024.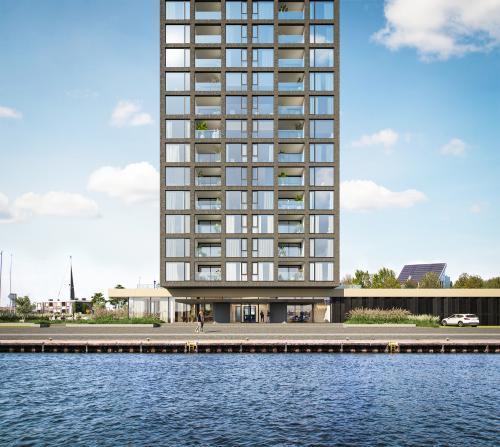 Project properties
Project name
Dok70 — luxury living with sweeping views of Terneuzen
Client
Cordeel Nederland B.V.
Category
Housing, Development
Architect
Grassodenridder architecten
Engineering
IOB, Bureau Bouwkunde, Technocon
General Contractor
Cordeel Nederland B.V.
Type of contract
Development
Modern residential tower
Comprising 104 owner-occupied apartments on 22 floors, Dok70 will be just a short walk from the bustling centre of Terneuzen. Penthouses (approx. 200 m2) will be located on the top two floors, with two- and three-bedroom apartments (77-112 m2) and studios (approx. 50 m2) situated on the lower floors. All residences will have beautiful, sweeping views. With the canal, the new sea lock, the Western Scheldt and the vibrant town centre, Dok70's unforgettable panorama will not fail to delight residents. The building will have ample parking space as well as a restaurant with a terrace on the ground floor.
Smart, sustainable and swift construction
For this project, we will be using C-fast, our own innovative construction method. A modular and beamless building system, C-fast consists of precast concrete floors and walls produced sustainably in our own factories. This approach combines full-thickness floor slabs with smart couplings and requires no shoring or compression layers, enabling much faster assembly.
Working at height without scaffolding
The façades of Dok70 will consist of prefabricated sandwich elements finished with fair-faced concrete and timber frames with triple glazing. The façade elements will arrive at the construction site ready for use, allowing for rapid installation. The apartments' MEP systems will be installed on the floor slabs and concealed with a foam concrete layer. The MEP shafts are prefabricated in sections. This inventive prefab construction technique does not require any scaffolding and is smart, swift and sustainable.
Ideal surroundings
Dok70 will stand tall on Beurtvaartkade in the heart of Terneuzen for all to admire – a valuable addition to the area and an impressive landmark. From the quayside location, residents can be in the heart of the bustling seaside town within five minutes and just a stone's throw from a popular shopping centre as well as the peaceful Koning Willem I Park.